The trip to Cassville yesterday was a blast. But for me it didn't start out that way.

Apparently Friday evening I set my alarm for 7pm so when I woke up at 8am Saturday I was fairly disturbed. But after a bit of hustle and bustle I made it to Wal-Mart (with a full tank of gas) by 8:30. It was raining and a little chilly but there were about 10 jeeps lined up ready to go so after a little standing around discussing things off we went.

The ride there was fun for me because although I was riding alone in my jeep I had my newly installed CB so I was able to chat with everyone during the approximately hour and a half drive. The drive took a little longer than it should have because on one of the back roads we got behind an 18 wheeler that was going about 20 mph up most of the hills. Plus the OJT Director of Trails (:cough: Roger :cough:) was leading the way, and I think there's a reason he's not the Director of Roads since we missed one of the turns and had to do a U turn about a mile past the intended road. In his defense it was raining and very foggy.

Once we made it to the trail head we prepped our rigs for the day; we aired down our tires and disconnected our front anti-sway bars. Then we all signed our names to a sheet of paper to make sure at the end of the day everyone could be accounted for, went over the rules of the trail and talked about what we would be encountering along the way. After that we headed out with the Director of Trails in the lead. Luckily the rain had mostly stopped and although the trails were fairly slick, they could have been much worse.

One of the jeeps that came on the run was a bone stock 93 YJ that didn't make it past the first obstacle. He took the by-pass to go around the big rocks but still got stuck and after smoking his clutch pretty badly discovered that he couldn't get his transfer case into 4 low. After watching everyone else climb (and a few struggled) over 2 foot ledges he decided to skip the rest of the run and head back home. I've heard he's since planning a suspension lift and bigger tires.

As I mentioned the trails were pretty slick which has a negative effect on traction. That's typically overcome by momentum and tire placement and some of the obstacles were pretty entertaining. The way it works is most people try to get over the most difficult part of the obstacle and if the can't make it work their way to the easier section. Then if they still can't make it they back down and take the bypass, use a winch to get up or have the jeep in front of them give them a tug with tow straps. The jeeps with the open differentials had the most trouble as they have to make sure all 4 wheels have traction or they just spin the ones that don't. A few had to take the bypasses, but most were able to overcome the obstacles with the help of some good spotting.

There was a bit more rain when we stopped to eat lunch, but generally as the day wore on it got warmer and the trails got drier. And a couple of the people that were struggling in the morning let more air out of their tires and had an easier time during the afternoon.

For me the biggest obstacle of the day wasn't rocks, it was trees. Most of the trails we rode down had small tree branches that brushed against the sides and top of the jeep so all day you could hear the scraping on the paint and soft top and the BOING of the CB antenna when ever you went under a low hung limb. At some point I lost my radio antenna to one of those branches.

As for trail carnage, I broke the trunnion that's part of the transfer case shift linkage. So anytime I needed to shift from 2wd to 4wd and vice versa I had to lie down underneath my jeep and tug on the linkage by hand. Thankfully Bobby had a tarp so I didn't get covered in mud. One guy broke off his passenger side mirror, another got a quarter size dent in his front differential cover and a dent behind the passenger side front fender. Someone else bumped a tree and dented the rear corner on the driver's side and I saw a few scrapes here and there on other rigs. All and all nothing too serious or debilitating so I'm thankful for that.

As far as entertainment while we were riding along someone asked the Director of Trails if we were on the right trail and he replied "I don't know I've been lost since this morning". That's reassuring. There were lots of impressive wheelies as people climbed out of trenches caused by erosion, and the best one by far was Bobby laying his jeep on his side on the last hill of the day. Here are the pics (taken by Matt).

Here's a good wheelie:

Here's a few of me: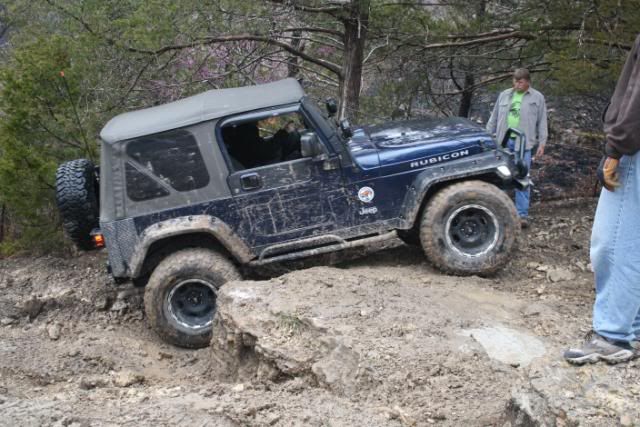 These are some other good pics: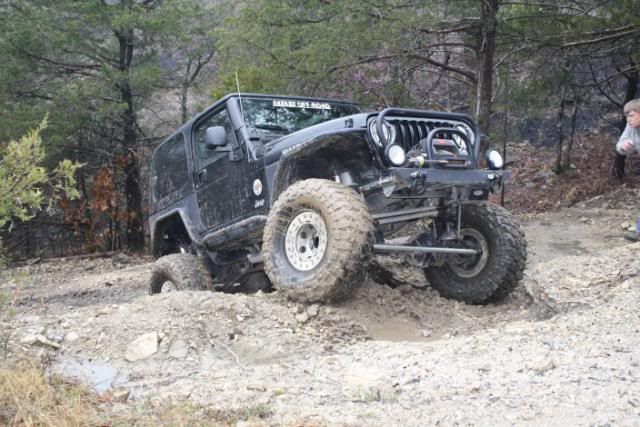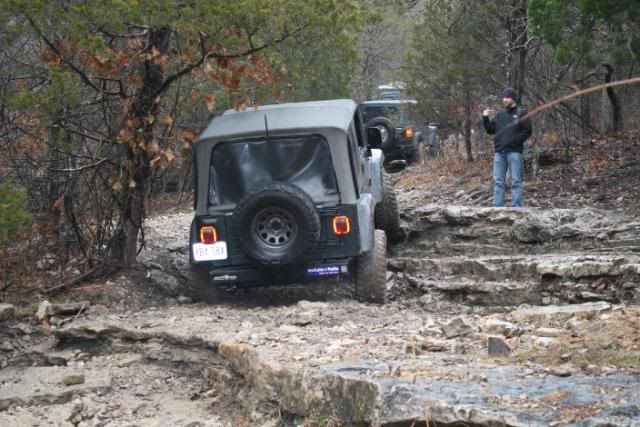 For more pictures check out's Matt's gallery.

We made it back to the original trailhead at about 6:30 aired our tires back up, reconnected everything and headed back to Springfield.

It was a good day.